x411x

1. YOU GOT A NAME TO GO WITH THAT ASS?:
Lydia. or Majik

2. HOW MANY CANDLES ON YOUR CAKE?:
i want to give it a shot, because ill be 17 in 2 months.

3. WHERE YOU STAY AT?:
Michigan

4. YOU GOT A BOO?:
yes, stephen.

5. COTTON CANDY or POPSICLES?:
popsicles

6. TELL US A LIL MORE ABOUT YOURSELF:
alot of people call me a bitch, but i think im just truthful. im not going to lie to you, and try to make you feel better. all i can be is myself, and i dont want to change for anyone - if im cool with you ill be chill with you for life until you fuck me over, but if you fuck me over - than dont count on me comeing back for seconds. in general, im normally pretty sweet, and a good person.

7. YOU GOT A JOB? OR ARE YOU A SLACKER LIKE NATTY?:
yeaaa....i got a job....everyone loves big macs....

8. HAVE YOU EVER GOTTEN YOUR ASS KICKED?:
more times than i can count..i grew up with all guys, and they used to beat the shit out of me when i was young, but because of them now i can fight like a guy, and dont take shit from no one.

xFAVESx


9. PSY. MEMBER & WHY?:
i normally go with blaze because i dont like picking between shaggz and jay - or monoxide and madrox - blaze is hard, plain and simple - he tells it like it is, just like everyone in psy pretty much - but i love what blaze has to say, and his voice is amazeing.

10. GROUPS/ARTISTS [NON-PSY.]:
i listen to a wide range of music. :: atmosphere, jedi mind tricks, dead prez, dilated peoples, tech n9ne, pdm, kmk, king spade, msi, cof, switch blade symphony, ect ect..

11. PSY. SONG:
i cant go with just one - im going to think randomly and with what comes to mind im going to say it 1-2-3: boogie woogie woo, lol. na really, so many. and too many too list.

12. PSY. MOMENT/MEMORY:
in all honesty - i dont really have many psy memorys, because ive never been to a show - ever. i dont know many los n lettes around me, this year i actually met a bunch for my first time - its real sad when you feel like your alone. but im finding people day by day. so i guess id have to say this year as a hole, is my huge memory - because ive finally got to know what the fam is all about, and haveing them around me - the sense of unity, and how it feels to connect on a completely different level. sounds corny, but its the truth.

13. SONG [NON-PSY.]:
dont ever fucking question that - atmosphere.

14. CONCERT:
never =/ i plan on being at the gathering this year, if that counts.

15. MOVIE:
my first mr.

16. FOOD:
pasta mm

17. DRINK:
cream soda, of any kind. faygo is good, n ofcourse liveing in mi i can get all i want, anytime - but i jus love cream soda in general.

18. OLD SCHOOL NICKELODEON SHOW:
fuckin rockos modern life - or old doug, old Doug was the shit. i also remember watching wild and crazy kids, haha.

xTHIS & THATx

19. WHAT ARE YOUR HOBBIES?:
everything id consider hobbies is mostly artistic - graphic design, i write, tagging- photography. & just being around my friends n doing shit most people would think was stupid.

20. HOW LONG HAVE YOU BEEN DOWN?:
the first time i heard icp, was when i was 11, or 12 - i listened on and off for awhile, liked the music - didnt know what it was that attracted me to it - i got with a lo awhile back, really liked the music - never let him in on it, because i didnt want to be the girl who was down because of her boyfriend - we broke up, got heavily into it - hes not even down anymore, was for like 5 years and backed out - everything fell together when i heard thy unveiling, and it gave me goose bumps - but i dont want to say that was what made me "down" because something attracted me to the music the entire time, and it wasnt because i thought it was "funny".

21. HOW'D YOU GET INTO LISTENING TO PSY.?:
i remember i was at a friends house, going through his cds, and there was a burned copy of riddle box - i had to be only about 11 at the time, maybe 12 - and i asked him what it was, and he said it was a friends, but i could have it - i took it home, and listened to it on repeat.

22. IF YOU HAD 24 HOURS LEFT TO LIVE,WHAT WOULD YOU DO?:
alot of people say they would go out and do all this insane shit, but i really think id just stay home, and be around the people i care about the most - there isnt really anything i want to do in my life, that i could do in 24 hours, that would even be close to being around the people who i love and care about. i guess id have to do all that insane crazy shit, in shangri-la.

23. IF YOU WON THE LOTTERY,WHAT WOULD YOU DO WITH THE SKRILLA?:
i know id spend a shit load on what ever i wanted, give some to charity - and invest the rest for college n shit. but i think the first thing i would buy would be a car - not any car, a fuckin 77 fleetwood caddy, or an eldorado.

24. WHAT IS THE CAPITAL OF NEW HAMPSHIRE?:
fucking concord, my aunt lives there. if i get that wrong, ill feel like an idiot, for atleast a minute. but im pretty sure.

25. IF YOU WERE TO KILL SOMEBODY WHAT WOULD YOUR WEAPON OF CHOICE BE?:
i seriousely think it would be so awesome to kill someone with an ice cycle. i know that sounds crazy, but your evidence melts away.

26. WHO WOULD YOU KILL & HOW? [BE VERY DESCRIPTIVE W/ THE DETAILS.THE MORE GORE THE BETTER]: His name is mike, and i dont want to get into why - but i can say how. Id tie him down to something really hard, make sure his body is completely laid out but he cannot move at all - so hes completely in place - (i know i said my weapon of choice would be an ice cycle but for him i want to use a knife) id stab him really deep in a bunch of different areas, and let him sit and bleed all over himself - but not kill him. id poke needles through his corneas. id pull some ed gene shit and rip pieces of his skin off, and where i did that, pour fuckin salt on them. then id cut his neck, and leave him. graphic enough?
if he really died, id be the first the police would come to - im sure of it.
but this would be after i heard the news, and had a fuckin kegger in celebration

27. DO YOU THINK FEMALE VAMPIRES ARE SELF-SUFFICIENT DURING THEIR PERIOD?: to tell the honest truth, i never really thought about it - and still dont want to.

28. HOW DO YOU EAT YOUR REESES'?:
i normally break them up, i dont know why - but their so small, and so good - and i want to savor them, lol.

29. TELL YOUR BEST "YO MOMMA" JOKE:
yo momma like a bowling ball, shes picked up, fingered, and thrown in the gutter.
xTHOUGHTS ONx:


30. THE EVENTS THAT WENT ON AT THIS YEARS HALLOWICKED:
i was just talking to my friend about this. dont hate me if i dont want to bring it up.
31. EMINEM:
never was an eminem fan. i cant stand his voice, he just whines on and on. if hes got problems with icp, hes got problems with icp - am i shaggy or jay? no. so why should i hate him because of it.

32. GROUPIES:
get-a-fucking-life.
33. DRUGS/DRUG LAWS:
i used to be really against drugs, but lately my opinions have changed - as long as you dont fuck up your life, being involved in them - and make that all you do, on constant - then i dont have a real problem with it. its when you let them change who you are as a person.

34. DRINKING:
i drink on ocassion. my true oppinion with alcohol? my dads a recovering alcoholic, stopped drinking when i was 18 months old, i know before that he put my mom through complete hell - but their still together to this day. i think drinking is cool sometimes, but when you do it too much - its too much.

35. OUR PRESIDENT:
i think george bush is an idiot. but the honest truth is, all politicians seem to be idiots. so why just give him shit for it. i think most democrats hate him, just because he is republican, not because of who he is. everyone makes mistakes, he just has money & family reputation - so he gets away with it.

xPOST SOMETHINGx:


36. FUNNY: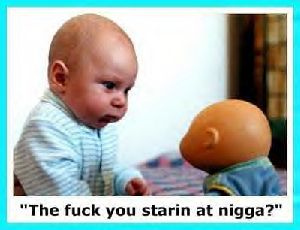 37. SEXY:
i sat there and seriousely tried to figure out what i thought was sexy at 122 in the morning, and i just decided to post a pic of my man, cuz really hes all i do think of, when i think of sexy.



38. DISTURBING/GORY/SICK:
http://www.oldspunkers.com/
this URL explains it all.

xLASTLYx:


39. WHAT DO YOU THINK OF YOURSELF?:
I think im attractive, to some people - but im not full of myself, and i dont go around thinking im hot shit. i have a shitload of self worth, & im pretty confident - but by talking to me you wouldnt guess so. i care about myself alot, but dont care about what others think of me.

40. WHY SHOULD WE ACCEPT YOU? [THIS CAN MAKE OR BREAK YOUR APP. SO DON'T FUCK UP!BWAHAHA]:
i think you should except me because in all im not fake. i dont try to put out some false image to make you think that im "down" or make you like me, i am who i am. to tell the honest truth, and im not trying to sound like a bitch - but if you dont except me, im not going to lose sleep over it - you win some, you lose some - but i really would like to be a part of this community, and i just spent about 25 minz doing this app, and trying to think of good answers for it. its about 1:30 and i was at at 8 this morning, so if this is a little screwed up, please forgive me. if you've got this far, thanks for reading it. i appreciate it.

xPICTURESx [post atleast 3]: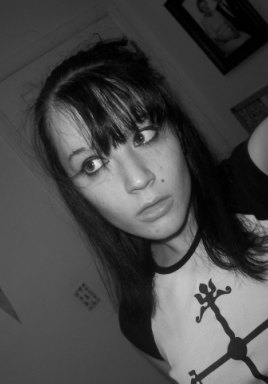 (im sorry if some of these are colorful, i stole a bunch off my art site because the normal ones are on my computer, and it crashed)